Bucharest and Cluj, be

AWS

ome heroes!
Bittnet and Amazon Web Services are pleased invite you to the third edition of AWSome Day in Bucharest, taking place on November 21st, 8:30 am, at Movieplex – Plaza Mall (Timisoara Boulevard, no. 26, district 6, Bucharest), and to the second edition of our AWSome Day in Cluj, taking place on November 22th 2017, 8:30 am, at Impact HUB (Garii Street, no. 21, Building D).
Bittnet, the IT training market leader from Romania, and Amazon Web Services, global leader of the cloud services market, are offering an exclusive opportunity to join us for a day of training and education on the  AWS Cloud. This free, introductory one-day event includes Technical content delivered by Amazon Web Services Experts within the Bittnet Training Team. As the only AWS Training Partner in Romania, Bittnet also holds AWS Consulting Partner status, demonstrating the breadth of Amazon Web Services expertise we offer.
The day will start with a session highlighting how and why customers are using Amazon Web Services to develop, deploy and operate secure applications and IT services. We will then cover the technical essentials on Amazon Web Services, part of the official Technical Essentials course.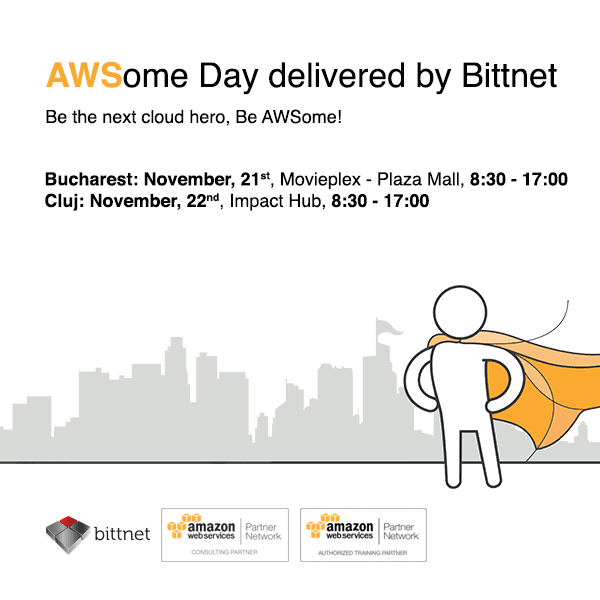 Technical Track
Victor Popescu, Bittnet
8:30 – 9:00 Registration and Coffee Networking
9:00 – 9:15 Welcome & Introductions, Florin Sandu, AWS
9:15 – 10:30 Introduction to AWS, Florin Sandu, AWS
10:30 – 10:50 Break
10:50 – 12:15 AWS Storage and Content Delivery Services
12:15 – 13:15 Lunch
13:15 – 14:15 AWS Compute Services and Networking
14:15 – 15:15 AWS Managed Services & Databases
15:15 – 15:30 Break
15:30 – 16:30 AWS Deployment and Management Services
16:30 – 17:00 Closing Remarks and Questions
As an authorized  Amazon Web Services partner, Bittnet can deliver the following courses, in both Romanian and English: