Cisco SISE – Implementing and Configuring Cisco Identity Services Engine
In this course you will discover the Cisco Identity Services Engine which is a next generation identity and access control policy platform.
Other topics covered in this course include authentication, authorization, and accounting (AAA) using 802.1x, profiling, web authentication, device on-boarding, VPN access, posture and MAB.
The focus of this course will be on hands-on practice with installing ISE configuring identity based networks using 802.1X for wired and wireless clients running Windows 8 and Apple Ipad.
This course is aimed at ISE Administrators/Engineers, Wireless Administrators/Engineers, Consulting Systems Engineers, Technical/Wireless/BYOD/Security Solutions Architects, ATP partner systems and field engineers, Systems integrators who install and implement the Cisco Identity Service Engine version 2.1.
Upon completion you will know how to:
ISE deployment options including node types, personas, and licensing
Install certificates into ISE using a Windows 2012 Certificate Authority (CA)
Configure the Local and Active Directory Based Identity Store and use of Identity Source Sequences
Configure AAA clients and network device groups
Implement Policy Sets to streamline Authentication and Authorization in the organization
Deploy EasyConnect as an alternative to 802.1X port based authentication
Implement 802.1X for wired and wireless networks using the AnyConnect 4.x NAM module, the latest dot1x commands on a catalyst switch, and version 7.4 of the vWLC
Configure policies to allow MAC Authentication Bypass (MAB) of endpoints
Use central web authentication (CWA) for redirection of legitimate domain users who need to register devices on the network using MAC addresses (device registration)
Configure hotspot guest access, self-registration guest access, and sponsored guest access
Configure profiler services in ISE and use newer probes available in IOS switch code 15.x as well as vWLC 7.4 code
Work with Profiling feeds, logical profiles, and building profiling conditions to match network endpoints
Configure posture assessments using the new Cisco AnyConnect Secure Mobility 4.x posture module
Implement Threat Centric NAC using Cisco AMP for Endpoint and Adaptive Network Control (ANC)
Integrate the Cisco WSA with Cisco ISE using PxGrid technology to share contextual information about authenticated users
Configure Cisco ISE as a TACACS+ Server for Device Administration with Command Authorization
Configure Cisco ISE to integrate with a 5500-X ASA and a Catalyst Switch for TrustSec and implement end-to-end Security Group Tagging (SGT) and Security Group Access Control (SGACL)
Integrate Cisco ISE with MobileIron for Mobile Device Management MDM
Configure a high availability distributed deployment
Third Party Network Access Device Support
Maintenance, best practices, and logging
Students need to have:
CCNA Security certification
Foundation-level network knowledge and skills necessary to install, configure, operate, and troubleshoot network devices and applications
Foundation-level wireless knowledge and skills
Basic knowledge of Cisco IOS networking and concepts
1. Introducing Cisco ISE Architecture and Deployment
Using Cisco ISE as a Network Access Policy Engine
Cisco ISE Deployment Models
2. Cisco ISE Policy Enforcement
802.1X and MAB Access: Wired and Wireless
Identity Management
Configure Certificate Services
Cisco ISE Policy
Configuring Cisco ISE Policy Sets
Implementing Third-Party Network Access Device Support
Cisco TrustSec
EasyConnect
3. Web Auth and Guest Services
Web Access with Cisco ISE
ISE Guest Access Components
Configuring Guest Access Settings
Configuring Portals: Sponsors and Guests
4. Cisco ISE Profiler
Cisco ISE Profiler
Configuring Cisco ISE Profiling
5. Cisco ISE BYOD
Cisco ISE BYOD Process
BYOD Flow
Configuring My Devices Portal Settings
Configuring Certificates in BYOD Scenarios
6. Cisco ISE Endpoint Compliance Services
Endpoint Compliance
Configuring Client Posture Services and Provisioning in Cisco ISE
7. Cisco ISE with AMP and VPN-Based Services
VPN Access Using Cisco ISE
Configuring Cisco AMP for ISE
8. Cisco ISE Integrated Solutions with APIs
Location-Based Authorization
Cisco ISE 2.x pxGrid
9. Working with Network Access Devices
Configuring TACACS+ for Cisco ISE Device Administration
10. Cisco ISE Design
Designing and Deployment Best Practices
Performing Cisco ISE Installation and Configuration Best Practices
Deploying Failover and High-Availability
11. Configuring Third-Party NAD Support
Labs:
Lab 1: ISE Familiarization and Certificate Usage
Lab 2: Active Directory and Identity Source Sequences
Lab 3: Conversion to Policy Sets
Lab 4: Access Policy for EasyConnect
Lab 5: 802.1X-Wired Networks – PEAP
Lab 6: 802.1X-Wired Networks – EAP-FAST
Lab 7: 802.1X-Wireless Networks
Lab 8: 802.1X-MAC Authentication Bypass (MAB)
Lab 9: Centralized Web Authentication (CWA)
Lab 10: Guest Access and Reports
Lab 11: Endpoint Profiling and Reports
Lab 12: BYOD and My Device Portal
Lab 13: Posture Compliance and Reports
Lab 14: Compliance Based VPN Access
Lab 15: Threat Centric NAC using AMP and ANC
Lab 16: pxGrid and WSA Integration
Lab 17: TACACS+ Device Administration
Lab 18: TrustSec Security Group Access
Lab 19: ISE Distributed Deployment
Lab 20: MDM Integration
Nu există cursuri recomandate după finalizarea acestui curs.
Nu sunt programe de ceritifcare pentru acest curs.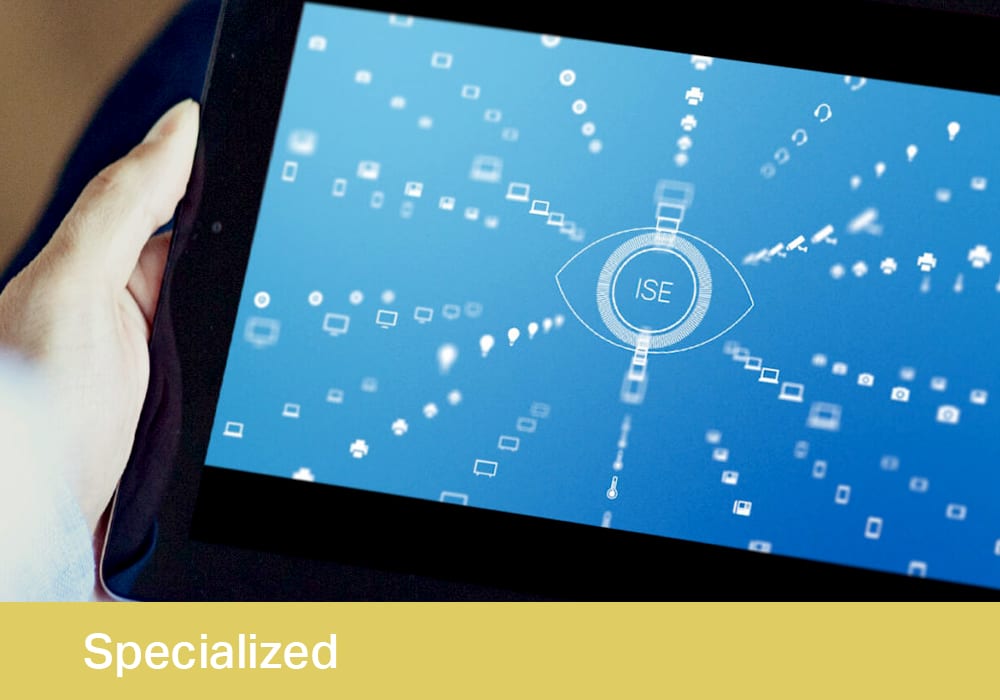 Într-o economie bazată pe cunoaștere, educarea și instruirea angajaților reprezintă o investiție în vederea obținerii unei performanțe îmbunătățite pe termen scurt, precum și a succesului pe termen lung al organizației.