Participanți: între 6 și 20 de cursanți
Livrare: live virtual, în limba Engleză
Material de studiu: manual digital
DevOps Engineer
System Engineer
Programmer
Developer
1. Docker Swarm. Creating a Swarm. Swarm Commands
2. Labels and Filters. Working with Secrets
3. Using the Overlay Network
4. Compose Files. Docker Stack
5. Advanced Node Management. Constraints. Availability
6. Monitoring and Logging. Collecting Metrics. InfluxDB/Grafana, Pometheus, Elastic Stack
7. Docker Security. Capabilities.
8. Docker Trusted Registry
Pentru a putea participa în cadrul acestui curs, studenții trebuie să aibă cunoștințe de bază ale Docker care includ:
interacțiunea cu containerele Docker din command line
lucrul cu rețelele și volumele Docker Bridge
Crearea de imagini Docker (Dockerfiles)
Se recomandă ca studenții să fi parcurs anterior acestui curs, modulul Docker Basic.
Module 1: Building a secure Docker Swarm
What is Docker Swarm?
Docker Secure Swarm Cluster
Docker Modes
Creating a Swarm Cluster
Deleting the Swarm
Orchestration
Service Types
Creating, updating, inspecting and deleting a Service
Hands-on Lab: The Lab Environment
Hands-on Lab: Initializing, extending and putting the Docker Swarm to work.
Module 2: Labels and Filters. Working with Secrets
What are Labels?
Keys and Values
Label behavior
Filtering Images, Containers and other Objects
Hands- on Lab: Labels and Filters
Module 3: Network types. Network services. Load balancing
Docker Networking
Swarm Networking
Mapping Ports in Swarm
Customizing the Ingress Network
Hands-on Lab: Networking
Module 4: Compose Files & Docker Stack
Docker Compose vs. Docker Stack
Installing Docker Compose
Supported Compose Commands
Environment Variables
Docker Stack
Inspecting the Stack Deployment
Updating a Running Stack
Hands-on Lab: Compose-files, Docker Stack
Module 5: Advanced Node Management. Constraining container resources. Availability
Container Resource Restriction
Swarm – Service Resource Constraints
Swarm Service Placement Preference
Auto-Restarting Containers
Swarm Auto-Restart
Service Rolling Updates
Service Rollback
Health Check
Module 6: Monitoring and Logging. Collecting Metrics. InfluxDB/Grafana and Prometheus
Logging Plugins
Simple Monitoring
Docker Events
Prometheus – Monitoring the Docker Daemon
Configuring Prometheus – Docker Engine
Prometheus – Runtime Metrics, App Metrics
Running Grafana
Grafana – Prometheus Configuration
Configuring Grafana
Hands-on Lab: Configuring Prometheus and Grafana for Monitoring your Swarm
Module 5: Docker Security
Container Security
Network Encryption
Swarm Security
Secrets
Securing the Docker Socket
Docker Bench for Security
Hands-on Lab: Limits, Security
Module 8: Advanced Docker Image Creation. Multi-stage Builds. Automated Builds
Private Registries
Containerized Private Registry
Multi-Stage Builds
Docker Content Trust
Signing Images
Github – Triggered Builds
Hands-on Lab: Image Management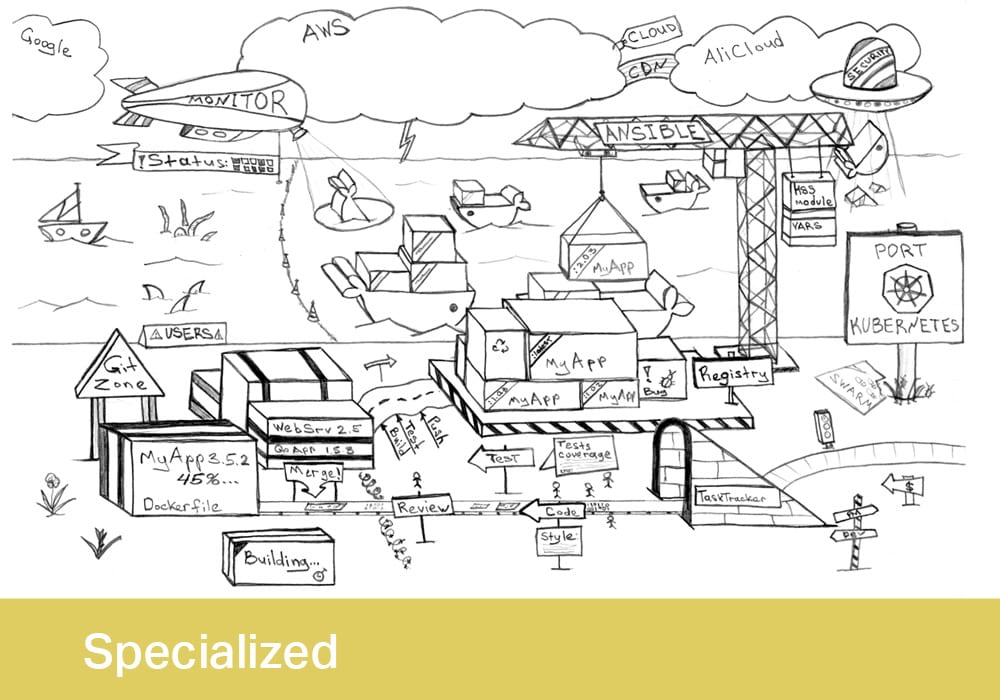 Într-o economie bazată pe cunoaștere, educarea și instruirea angajaților reprezintă o investiție în vederea obținerii unei performanțe îmbunătățite pe termen scurt, precum și a succesului pe termen lung al organizației.
DORESC SĂ MĂ ÎNSCRIU LA CURS