Six years of Cisco Connect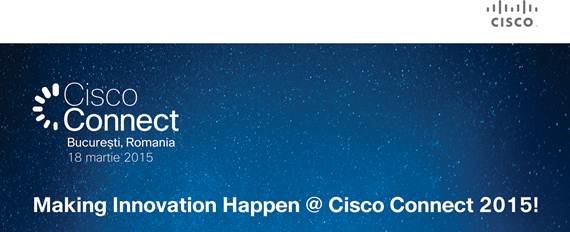 How does Internet of Everything change the way the wolrd works, the way in which people live, learn, work and spend their free time? How will the future look when everything that sorunds us will be interconnected?
Come to the Cisco Connect event which will take place on 18th of March at Willbrook Platinum Business & Convention Center to discover the newest IT&C solutions and find out details, interact with experts and take part in practical demonstrations. As every year, Bittnet specialists together with Cisco specialists and from other partner companies reuinte for keynote sessions, presentations and networking, to which we invite you.
Stay connected to innovation and come find out what are the latest trends on the market, come and see what are the directions in which we are heading and which are the newest technologies you should adapt if you want to keep up with the dynamic changes of the IT industry.
We await you with an interactiv stand to get to know eachother better. Prizez will not be missing for our curious, brave and perseverent participants.
Registration to the event can be done on the event's website.
If you want to know more about Bittnet's presence at Cisco Connect or about registration, write to us at askformore@bittnet.ro and we will come to your aid.
P.S. Don't forget your visit card.