Bittnet earns the Cisco Certified Gold Partner status
In 9 years of activity Bittnet has been through all the partnership levels in relation with Cisco, being the only IT company from Romania to be listed on the Bucharest Stock Exchange.
In the company's history the IT integration business line has generated around 60%-70% of revenue, Bittnet building and delivering over 1000 integration projects. Bittnet has delivered IP telephony for various organizations (from railroad, automotive etc.), has ensured Wi-Fi connectivity for a chain of hypermarkets at national level, designed and implemented security solutions for a german data center, has built an entire communication network from scratch (including laptops and mbile phones) for an online company from Israel, when said company opend it's business in Romania and the list could continue.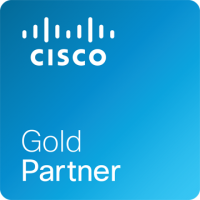 As such, Bittnet, integrator and leader of the IT training market leader in Romania, anounces that they obtained the "Cisco Certified Gold Partner" status from the american technology producer Cisco. Thereby, Bittnet manages to obtain the highest level of certification in relation with Cisco after it passed through all the levels in it's 9 years of experience: Partner Registered, Select, Premium, Silver and Gold.
The company earned the "Cisco Certified Gold Partner" following an independent audit process which analized the technical competencies of the Bittnet team, our ability to understand our clients' needs, client satisfaction but also business practics and the IT integrator's capacity to deliver Hybrid IT, Cloud and Managed Services type of solutions in projects that use Cisco network technology.
With this upgrade Bittnet joins the other 6 players in the local market which hold this certification, being the only "Gold" partner to be listed on the Bucharest Stock Exchange (BVB) and the only company whoes majority stockholders are romanian to obtain this title in the last 8 years.
"This certification comes as a validation of the etnire team's effort in the last 9 years and offers us a vote of confidence in relation with our clients in Bucharest but more so from the rest of the country where we have long lasting partnerships. Here I am refering to regions like Cluj, Oradea, Timisoara, Sibiu, Sebes, Alba, Brasov or Iasi, where Bittnet is the only partner with a local presence.", says Mihai Logofătu, CEO of Bittnet.
Compania americană Cisco acordă statutul de "Cisco Certified Gold Partner" ca recunoaștere a  capacității Bittnet de a identifica, propune, livra, instala și asigura mentenanță pentru soluții IT complexe, din domenii precum: infrastructură de rețea, datacenter, cloud sau securitate informatică. Pentru a obține această certificare, Bittnet a investit anual sume importante în atragerea și fidelizarea resursei umane: ingineri, traineri, specialiști de marketing și vânzări.
The american company Cisco, awards the "Cisco Certified Gold Partner" status as a recognition of Bittnet's capacity of identifying, suggesting, delivering, installing and maintaining complex IT solutions from areas like: network infrastructure, datacenter, cloud or information security.
"We earned the "gold" certification based on the competencies of 20 specialists that together hold 144 individual certifications from sales experts, project management and tehnical certifications. Investments are high, tens of thousands of dollars for each step. It is difficult to offer an exact number but estimates show that we invested about 150.000 dolars in order to pass through all the Cisco certification steps.", explains Cristian Logofătu, CFO of Bittnet.
In 2015, Bittnet has trained over 1.100 students in IT technologies in Bucharest and other cities but also from other countires and implemented 200 IT integration projects of different sizes: from cloud services of a few thousand RON to IT infrastructure projects of more than 1,4 million RON.
For more details or information please write to askformore@bittnetsystems.ro.